Guest post by Mary-Jo Enderle
BORG CUBE, RedMonk, Tuesday (NNGadget) — I have seen the future: Windows $NEXT_VERSION Milestone $MOCKUP.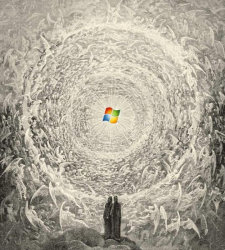 I tried it on a low-end laptop with four Core 2 Duo chips and only 8 gig of memory, and trust me: $NEXT_VERSION is shaping up to be one heck of a product.
WordPad and Paint have seen major overhauls to their user interfaces. Forget the freetards and their "distros" full of all sorts of useless shovelware like "FireFox" and "OpenOffice" and, haha, "GIMP"! — the bundled software with Windows $NEXT_VERSION is clear, simple, sparse and to-the-point. The much-loved Ribbon user interface from Office $HATED_VERSION is now part of WordPad and Paint!
The controversial Digital Rights Management system in $CURRENT_VERSION has been worked over, with user-downloadable "tilt bits," which you can configure to your own liking. It'll require every user to supply a blood sample for DNA analysis, and the beta nearly took my finger off, but of course that's only if you want to play premium content. The Blu-Ray™ of Battlefield Earth was unbelievable on this operating system.
A public beta should be released by the end of this year. There's just no way that Steve "Trains Run On Time" Ballmer will miss the Christmas deadline. The final release should leave the midnight queues on $CURRENT_VERSION release day — the street riots, the water cannons, the rubber bullets — in the shade.
I am so excited about $NEXT_VERSION of Windows. It will go beyond just solving all of the problems with $CURRENT_VERSION, it will be an entirely new paradigm. Forget about security problems, those are all fixed in $NEXT_VERSION. And they're finally ridding themselves of $ANCIENT_LEGACY_STUFF.
Also, there'll be $DATABASE_FILESYSTEM. It'll be awesome!
I wonder how $NEXT_VERSION will compare to $NEXT_NEXT_VERSION.